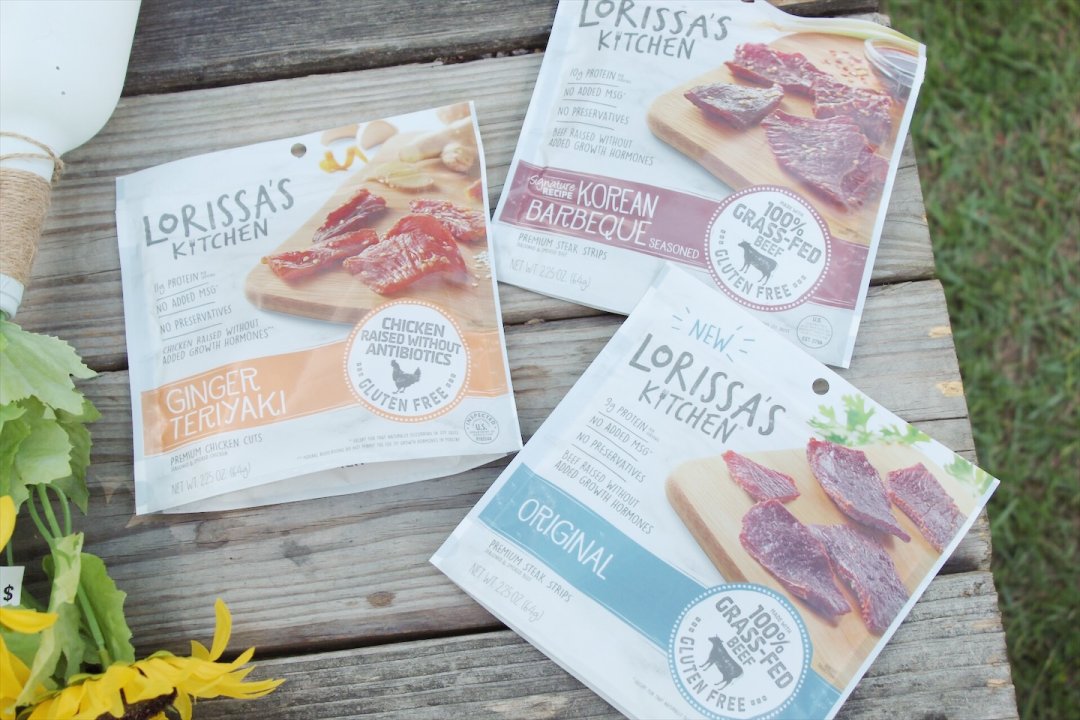 Be sure to click the image above to shop Lorissa's Kitchen!
Thank you Lorissa's Kitchen for sponsoring this post. Lorissa's Kitchen makes delicious snacks using high-quality meats like 100% grass-fed beef and chicken raised without antibiotics — click here to purchase Lorissa's Kitchen on Amazon! Having a healthy pregnancy is the goal of every expectant mother's right?
In my previous pregnancies, I didn't have many struggles and always made sure that I was eating properly. However, this time, going into my pregnancy things had changed; drastically.
If I can be honest, I wasn't near as healthy as I was previously, nor was I in shape. Basically, I was overweight.
There were things that I knew I needed to do right from the start if I wanted to make sure that I gave my little one the best start in life. One of those things was making sure that I changed my eating habits.
Whether I am at home or on the go, I made this my first priority. 21 days to break a habit, right?
Since it's the summer, it's made things a bit challenging. The kids and I are constantly on the go, so I often find myself stopping at restaurants or running into a gas station to grab a snack (usually something unhealthy). Over the last few months, I have gotten better at making sure that I keeping the healthy habits that I've worked so hard to instill, even while I am the go.
Drink more water
It's the summer. It's the south. This should be a no-brainer, but it's not always. Being pregnant it's important that I keep my body properly hydrated. 
Limit my caffeine intake
It's suggested that you limit your overall caffeine intake to 200mg and best to check with your doctor on what is recommended for you. My doctor allows me to have 1 cup of coffee a day — but don't forget caffeine isn't just found in coffee!
Bring my own snacks
Being gone most days from 7 am until nearly 8 pm (if we are lucky), can wreak havoc on my eating habits. By packing my own snacks, I can make sure that not only am I eating when I am supposed to but that I am eating properly.
One of my favorite snacks to bring along is Lorissa's Kitchen beef strips. Because their snacks are are gluten-free and don't contain any preservatives, added growth hormones, or added nitrites; I can the Korean Beef Strips guilt free!
Plus, it's easy to carry around with me wherever I go!
The meat snacks from Lorissa's Kitchen, are made with the highest quality meats, from beef and chicken raised without antibiotics and that is 100% grassfed. Plus, Lorissa's Kitchen is a great source of protein for us pregnant mamas!
Take care of my mental health
There is a bevy of emotions that come along with being pregnant. It is as exciting as it is overwhelming. During this time, it's important that I make sure that I am taking care of my emotional needs as much as possible. This means when I am feeling blue,I  talk to someone. Likewise, I find it important to not get too stressed out either.
I was selected for this opportunity as a member of CLEVER and the content and opinions expressed here are all my own.
Love of impromptu dance parties, 80's cartoons, and horizontal life pauses (aka naps); Natasha Brown is a stay at home mom of 4 kids, and wife to one lucky guy! In her spare time, she is co-editor of Grits & Grace, as well as editor for The Mother Hustler Blog and Creative Director for the Mother Hustler podcast.