All opinions are mine alone.#TearASquare #Brawny #TargetFinds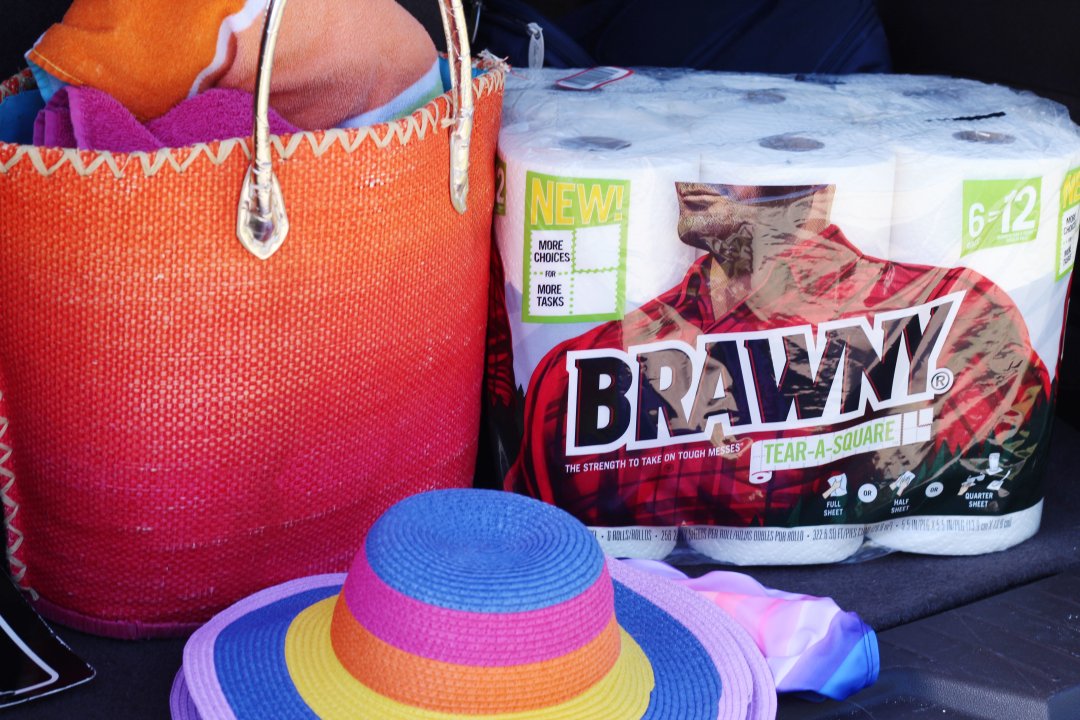 I love a good summer beach day trip just as much as the next person. But when traveling with kids (especially young ones), there are things that we have to pack and few things that we may not think of, that are a definite must!
As parents, it's easy to turn any simple trip into a PACK ALL THE THINGS as we are gathering up our kid's items. But it doesn't have to be. If you are a pro (read procrastinator) at last minute packing like I am, then I have a few tips on how to make things less stressful, while making sure you have all of your bases covered!
Of course, there are few basics that everyone should carry with them to the beach:
Beach Tote
Beach towels
Beach chairs
Cooler with wheels
Smaller portable cooler
Water bottles for everyone
Beach Cart/portable wheels
Beach toys
Swim goggles
Floats
Drinks
Food
Plasticware
waterproof sunscreen
Lip balm/protector
Insect repellent
Hairbrush
Hats
Sunglasses
Hand sanitizer
Wipes
But there are also a few items that you may not think of as well as a few hacks for common items that you may bring to the beach as well.
Shopping bags
You are probably thinking that this is nuts. But what better place to put sandy, wet clothing? If you are 100% against plastic bags, then reusable shopping bags or paper bags work just as well.
Small broom
You remember the tiny handheld brooms and dustpans. This comes in handy especially when you are preparing to get in the car to help get rid of any excess sand. A soft broom will allow you to easily wipe the sand off your kid's bodies.
Forget the individual beach towels
One of our favorite things to use is an old duvet cover. This is a lot easier than spreading individual towels for each of the kids on the ground. This way the towels are still sand free when it's time to dry them off. There's nothing worse than sand covered towels and wet kids.
Paper Towels
Yes, paper towels.
Brawny® Tear-A-Square™ is absolutely perfect beach item, that we as parents don't always think about. Wet wipes are a great accessory for trips but a lot of times it can end up in more of a mess being made. Brawny® Paper Towels can handle the toughest messes and everyday cleanup.
When using for cleaning up dirty hands and feet at the beach, it allows the sand to be easily wiped off, whether it's wet or dry. Brawny Tear-A-Square 2-ply is a premium paper towel that has a unique quarter sheet size option with 256 quarter sheets per roll. It provides a smaller sheet size option for your smaller tasks so that your roll can last longer.
This means it's perfect for doing this
This
And of course, this
The quarter sheet size paper towels for small spills and quick clean-ups. When you are on the beach, it's also the perfect place for snacks!  And even for building sandcastles!
How would you use Brawny Tear-A-Square? Let me know in the comments below!
Love of impromptu dance parties, 80's cartoons, and horizontal life pauses (aka naps); Natasha Brown is a stay at home mom of 4 kids, and wife to one lucky guy! In her spare time, she is co-editor of Grits & Grace, as well as editor for The Mother Hustler Blog and Creative Director for the Mother Hustler podcast.